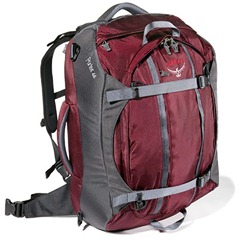 I began my first year-long trip in March 2009, starting off on Isla Mujeres, Mexico and traveling through all of Central America (except for Belize). I had done a fair amount of research online before going and everyone seemed to say the same thing – pack light! Many also said that the things one packs tends to expand (or shrink) to fit the size of the luggage. So, after reading some good reviews online, I decided to choose the small Osprey Porter 46 with the idea it would force me to pack light. And it did!
Key Features
This is a pretty simply designed bag but that doesn't mean it's features aren't noteworthy. Below are the key features:
Compartments/Pockets
One large, lockable main compartment which provides easy access to inside contents
Two organizer pockets in the main compartment (top and side)
Second, smaller (non-lockable) top compartment offers easy access to smaller items (e.g., toiletries)
Third exterior compartment (access panel to main compartment) serves as a quick-access pocket for papers, magazines, etc.
Material/Components
Constructed of abrasion-, moisture- and tear-resistant 840-denier and 1,680-denier ballistic nylon fabrics for long-lasting durability
All other components feature high quality construction as well (handles, zippers, straps, buckles)
Transportation
Has a harness system (hip wings, shoulder and chest straps) to treat this bag as a backpack (see more on this below)
When necessary, harness system stows away behind zippered cover for a clean, less-cluttered appearance
Two large (top, side) grab handles and two heavy duty fabric loop handles (both on top) make carrying a breeze when not using it as a backpack or when just transferring it short distances
Carry-on size!
Other Features
Compression straps keep your pack nice and secure and less likely to get snagged when walking in tight spaces (trains, etc.) or stowing the bag; no loose straps or buckles, everything has a tidy clip or stash so there's nothing to catch on
Foam-stiffened sidewalls keep load secure and keep the bag open while the top lid is unzipped, allowing you easy access without the pack collapsing on you.
Volumes and Weights
US and International weight and volume specifications
| | | | | |
| --- | --- | --- | --- | --- |
| Size | cu. in. | liter | lbs/oz | kg. |
| One Size | 2800 | 46 | 3/2 | 3 |
Dimensions
Dimensions are shown as length (height) x width x depth
In: 22 x 14 x 9
Cm: 56 x 35.5 x 23
Summary
The key features listed above do a fairly good job of explaining this bag. What I will add, after having used this bag for an entire year are the following points:
Very high-quality material


I swear this bag looks as good today as the day I bought it. Every aspect of the bag seems to have been designed with quality in mind.

Bigger than it seems


Yes, 46 liters IS small, but you would be surprised how much this bag can hold, undoubtedly helped by its wide-open space design. And, with the compression straps you can bulge it a bit probably making it more than 46L in practice.

Easy to lock and secure


I really like how easy it is to secure this bag. With only one main compartment, and zippers that work super well (no catching, smooth motion) locking up with one travel lock is a breeze.

Backpack harness


OK, so this is the single area where this bag really does NOT excel. Yes, you can definitely wear this bag like a backpack, but I wouldn't recommend doing so for extended periods unless you have a great back and shoulders or you are traveling very light. In theory the hip wings should spread the load to the hips, but in practice I often felt most of the weight was distributed on my shoulders. Having said that, it is completely fine for short hauls but for true backpacking look to another bag.

Rain resistant?


Actually, despite traveling during an entire months-long rainy season, I only got stuck in the rain once or twice with this pack, and not for very long. I had no problems either time so I guess it is at least mildly water resistant but beyond that I can't say. I can say the bag does not come with a rain cover so that is an accessory you might find useful.
Final Conclusion
The Osprey Porter 46 is a very well-designed bag which more than meets its purpose and is very reasonably priced (typically $100). Consider it for carry on luggage or, depending on the nature of your backpacking needs, for extended backpack travel.
Though I have now decided on a different backpack for future lengthy travels, I love having this bag to use for trips where I will be flying and don't want to check a bag. Overall a fantastic purchase.
You may also be interested in seeing what I actually packed in this gem for my year in Central America.
More Photos:
There Are
15
Comments
Click to See or Add Your Own »