Creating a packing list for travel is a chore that depends on your lifestyle, your destination, your planned activities and the amount of time you will be traveling. Here is a comprehensive list of 300+ items that should cover most travel situations. The idea is not to pack every item listed here but rather to create a customized list for each trip you take, while hopefully getting occasional "oh, I didn't think of that" inspiration.
Rather than one continuous list, I have created sub-lists based on the general purpose of the items included. I have also added some thoughts I consider relevant to certain items or topics.
However you choose to create your packing list, if one of your goals is to pack lightly, keep in mind that any final list should focus on eliminating the liabilities rather than on allowing for all possibilities. Think of your personal list as a sort of contract with yourself. The terms of the contract specify the most stuff you will ever bring with you. The list will change based on circumstances and experience (packing is definitely a skill that improves over time), but it should remain somewhat constant.
Packing List Tools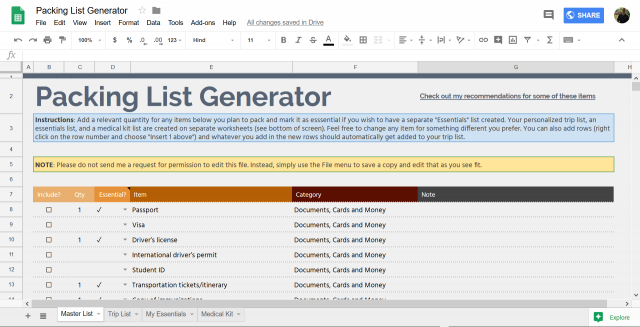 The full list I provide below is useful, but what you really need is an easy way to create a customized list for each trip. There are some online and mobile packing list apps but most have some deficiency. On some you cannot add or remove items. Some won't let you save your list. Some don't let you specify a quantity. Some require an account.
There are quite a few spreadsheet lists you can download, but I didn't find any that were interactive so I decided to create my own. My interactive Google spreadsheet packing list generator has multiple sheets.
On the main sheet you'll find this entire list (without all the comments or links). You can edit any item or add your own items. You then mark a quantity for each item you wish to pack, note whether you consider the item essential or not, mark relevant items that you will include in your carry-on bag, and finally add any item notes.
As you modify the main sheet, four other sheets will be automatically updated. One is your customized trip list, one is a list of your "essential" items, one is your carry-on items, and one is a specialized health and medical (first aid) packing list.
Give my spreadsheet a try and let me know what you think. But first, continue reading to see some useful notes, tips and suggested brands and individual products.