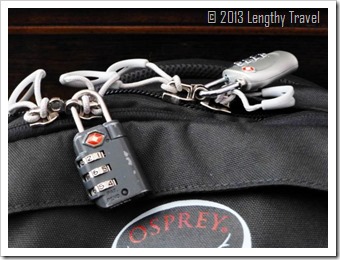 I started off my lengthy travels with an Osprey Porter 46. Even though it was a good bag, its harness wasn't good enough for my style of travel. After looking for a replacement pack, I ended up split between the Osprey Waypoint and the Deuter Quantum 55+10. Ultimately, I chose the latter, and it proved to be a very good bag. In fact, I would be happy to continue using it. Still, the more I travel, the more I think I should try to go a bit lighter. I have heard of other lengthy travelers who get by with only carryon sized bags. Ah, that's the dream, right? At the same time, I have always wondered how that Waypoint would have compared to my Deuter. Thus were sown the seeds of my backpack discontent.
Since I was planning to take a bit of an extended travel break (ironic, no?) to visit family and catch up on some writing, I decided to investigate the options for trading down to a carryon pack. The concern I had with re-visiting the Waypoint line was that it only comes in 65L and 85L versions. That would actually be a step up in size for me. Still, I like the Osprey brand and with two and a half years having passed since I last researched packs, I thought I'd see what they had to offer. Upon doing so, I was pleasantly surprised to see they have a new line called Farpoint. After some research, I learned that the Farpoint is basically a Waypoint on a diet; the material is lighter, the harness/suspension a bit less robust, and the sizes are smaller too: 40L, 55L, and 70L (the 40L is a new addition for 2013).
One of the things that I liked about both the Waypoint and the Deuter packs were the included detachable daypack. In fact, I have really come to value my Deuter daypack (big plus: it's expandable; big minus: no side mesh pockets). The daypack that comes with the Farpoint 55 seemed quite good and thus I started thinking seriously about choosing that as my new pack. The main pack is 40L (or 38L if you choose the S/M size) and thus the daypack is 15L.
Below are the features, specifications and everything else I can think of that might help you decide if the Farpoint is the right backpack for your travels.
Features
All models:
Harness: Zip-away, fixed (not adjustable) unisex; comes in two sizes (S/M and M/L); adjustable sternum strap with rescue whistle buckle (whistle is a part of the buckle not a separate component)
Suspension: Spacer mesh back panel; LightWire™ frame
Hipbelt: 3/4 length fixed ErgoPull™ hipbelt closure
Multiple gear attachment points
Material/Fabrics: 210D Shadow Box (aka Rip Stop Nylon) for top, sides, and bottom; 600D (Denier) Nylon Pack Cloth (canvas)
Large panel access to main compartment with internal compression straps for keeping gear secure
Dual lockable zippered access to main compartment
Top and side padded carry handles
External and internal compression straps
Colors: Mud Red, Charcoal, Lagoon Blue
Farpoint 55 and 70:
15L daypack that can attach and detach from both the main pack and the harness; includes two external mesh pockets, internal padded laptop sleeve, and small, easy-access zippered pocket
Farpoint 40 only:
Dual front mesh pockets
Large dual lockable zippered access front zipper pocket with padded laptop and tablet sleeve
Small front zipper pocket with key fob
Specifications
I like to compare specifications for the different models all in one place, which is hard to do on the Osprey site, so here is are two summary tables, one for each measurement system.
Imperial Measurements
Farpoint 40
S/M
Farpoint 40
M/L
Farpoint 55
S/M
Farpoint 55
M/L
Farpoint 70
S/M
Farpoint 70
M/L
Cubic Inches*
2319
2441
3173
3356
4089
4272
Weight (lbs / oz)*
2 / 14
2 / 15
3 / 12
3 / 15
3 / 13
3 / 15
Height x Width x Depth (in.)**
20 x 13 x 9
21 x 13 x 9
24 x 13 x 12
25 x 13 x 12
24 x 14 x13
25 x 14 x 13
Torso (in.)
15-19
18-22
15-19
18-22
15-19
18-22
Fits waist/hips (in.)
27-45
30-50
27-45
30-50
27-45
30-50
Metric Measurements
Farpoint 40
S/M
Farpoint 40
M/L
Farpoint 55
S/M
Farpoint 55
M/L
Farpoint 70
S/M
Farpoint 70
M/L
Liters*
38
40
52
55
67
70
Weight (kgs)*
1.3
1.32
1.70
1.78
1.72
1.85
Height x Width x Depth (cm.)**
51 x 33 x 23
53 x 33 x 23
60 x 34 x 30
64 x 34 x 30
60 x 36 x 32
64 x 36 x 32
Torso (cm.)
38-48
46-56
38-48
46-56
38-48
46-56
Fits waist/hips (cm.)
68-114
75-127
68-114
75-127
68-114
75-127
* Includes the Farpoint Day daypack if included
** Does not include Farpoint Day daypack, which measures 17 x 12 x 8 inches (43 x 29 x 21 cm.), is 915 cubic inches (15L) and weighs 1 lb. 1 oz. (0.48 kg). The Farpoint 40 does not include the daypack.
Here are the two load range graphs provided on the Osprey Farpoint page. The green to yellow zones represent the recommended load range for the pack.
| | |
| --- | --- |
| 40 | |
| 55 & 70 | |
Note: I was curious to know why the measurements varied by retailer and asked the Osprey customer service folks. It turns out that some use the official Osprey measurements (which are, not surprisingly, the accurate ones), but some take their own in-store measurements, which can vary depending on how they are measured. Also, some retailers include the daypack in the measurements and some don't. I'm not sure how common it is for retailers to rely on their own measurements instead of manufacturer specifications, but it is worth considering if you are shopping for a backpack.
Carry-On Compliant?
Since one of my goals is to downsize to a carry-on compliant pack, I was very interested in knowing if the Farpoint 55 met that objective. In the other reviews I found, it was also a common topic either in the review itself or in the comments. Based on the official dimensions shown in the table above, only the Farpoint 40 meets the common carry-on requirements of less than 45 total inches (115 cm). Now, there is official compliance and there is what you can get away with. Early reports are that, assuming you don't overload them, both the S/M and the M/L have been carried on successfully since they don't visually appear to be so large as to attract the attention of airline employees (in all cases, you will, of course, want to detach the daypack). Apparently, actually fitting the 55 in the overhead bin has never been an issue so the real issue is how vigilant the airlines are about checking size compliance.
Even if you are able to use your Farpoint as a carry-on bag, don't forget the weight restrictions. Your bag may be an acceptable size but may be too heavy, depending on what you are packing. Always check the specific airline requirements.
Farpoint 40 vs. Farpoint 55
Without paying much attention to the specifications, you might conclude the only difference between the Farpoint 40 and 55 is the detachable daypack. That's not the case, and what is odd is that while both have the same volume for the main pack (38L for S/M and 40L for M/L), the 55 is significantly larger in dimensions. The design is also different, with the Farpoint 40 offering a an external, lockable zippered access pocket with a padded laptop sleeve, two external mesh pockets, and a small front zippered easy-access pocket for small items. In a sense, it seems the Osprey designers wanted to offer some of the benefits of the daypack on the main 40L pack. How they accomplished this while still meeting standard carry on size restrictions when they couldn't seem to do so with the Farpoint 55 is a mystery.
My Choice
So, here was my decision. Go with the 40 and be compliant with most airlines for carry-on luggage but forgo the daypack or go with the 55, get the daypack and take my carry-on chances. After thinking a bit more about it, I realized that while I love having a daypack to carry around town, the truth is that I very rarely attached it to my main pack in the past, opting to carry it "turtle" style for ready access and to be able to keep with me in my seat on public transportation. I figured I could just get the Farpoint 40 and keep using my Deuter, but out of curiosity, I researched the small daypacks available on the Osprey site to see if the detachable pack that comes with the Farpoint 55 was sold separately. It isn't, but Osprey does have a fairly wide selection of others to consider. Many seem quite good but are surprisingly heavy, so I focused on the lighter-weight models, eventually deciding that the Axis (part of the 24/7 series) might be worth pairing with the 40.
Axis Daypack
I won't do a full review of the Axis, but I will quickly say that it is a nice 18L (1098 cu. in.) daypack. It seems to be designed to be quite streamlined, opting for a longer, less deep design. This is good for some things, especially avoiding bumping into things and fitting into tighter spaces and public transportation when standing. The tradeoff is that you may be limited in packing bulkier items. I can't quite figure out why the Axis includes zippered external pockets rather than mesh ones, especially since the two brother packs in the same line (Orb, Flare) use mesh pockets. Since these zippered pockets don't "give," they might prove a bit useless in cases where I have the pack quite full on the inside. I like the idea of the front bungee compression system (which is also not found on the brother models in the series), but I haven't used it yet. The small front/top stash pocket with mini organizer is great for storing smaller items I might need in a hurry, though it can't be locked so I may hesitate to keep anything valuable there. I think the padded carry handle will prove very useful. There is an internal mesh pocket, but since anything I put in there will impede packing and accessing the main compartment's items, I'll have to see if I end up using it much or not. There is also a special MP3 or mobile phone pocket with pass-through access for headphones, which could be useful. The pack includes two internal sleeves, one semi-padded for a laptop. As for the main compartment, it has a dual zipper, which is great. But, I can't understand why Osprey didn't include the easy-to-lock style of dual zipper that they use on the Farpoint series and this is my biggest criticism of the pack in general. Finally, the back panel and harness are comfortable and breathable, with an adjustable sternum strap and a thin (20mm), removable waist strap. The specs for the Axis are: 18 x 11 x 9 inches (46 x 29 x 22 cm) and 1 lb. 7 oz. (0.64 kg). If you are in the market for something slightly bigger or smaller, the little brother Orb pack offers 12L and the big brother Flare pack offers 24L. Then there are three even larger options in the same series.
My Initial Thoughts
I am writing this three weeks prior to departure for my next lengthy travel (this time to Japan and SE Asia). Here is a collection of preliminary thoughts I have on my new Farpoint 40. They are sort of organized, but in no particular order.
Construction
The Farpoint's design reduces weight compared to the Waypoint series and one thing that is sacrificed is the rigidity of the pack. A Porter or Waypoint will more or less retain its overall shape and size when empty or lightly filled whereas the Farpoint sort of sags and collapses in spots in similar circumstances. Even more or less full, you may notice the Farpoint is a bit "sloppy" looking here and there. This is mostly an aesthetics issue, and doesn't bother me one bit, but it might matter to a few of you.
Related to the rigidity issue, some folks online have questioned the durability of the Farpoint since the fabric is lightweight and seems less sturdy or rigid than other packs. While it is too early for me to pass judgment, I will say that it seems sufficiently strong to me and I have read a few reviews which claim it has held up very well under heavy use. Though it might not help immediately If something happens to your pack in a remote location, Osprey does offer an impressive "All Mighty Guarantee," and will repair for any reason, free of charge, any damage or defect – whether it was purchased in 1974 or yesterday.
Features
I have always preferred a front panel loading design. My Detuer is both a front panel and a top loader. The top loading access helps gives it the expandable 10L option and it has its advantages, but one big disadvantage is that you can't really lock the main compartment. So, with my new backpack I wanted to return to a front panel-only pack and the Farpoint meets that goal.
I was a big fan of the easy-locking dual zippers on my previous Osprey and I am very pleased to see the same on the Farpoint.
Like the Porter 46 I used in the past, the Farpoint includes carry handles. These are really well-constructed and useful, especially if you have the harness zipped up.
None of the Farpoint models come with a rain cover for either the main pack or the daypack. My old Osprey Porter 46 handled light rain pretty well without a cover, but it remains to be seen how well my Farpoint will do in the same circumstances. I suppose for the smaller 40 and 55 it might be understandable to leave off a rain cover to save some space/weight, but I am not sure the same applies for the larger 70L model. My Deuter came with a very nice cover that could work as a cover or completely enclose the pack for checking on airlines. The latter feature is not necessary with the Farpoint since the harness can zip away. I still haven't decided how much I consider not including a rain cover to be a negative since for basic travel I am not sure I will need it much, though I did have the habit of using my Deuter cover when I put the bag in dirty bus luggage compartments. Instead of buying a separate cover, which Osprey does sell, I have purchased a poncho which can cover me and the pack. I don't know if this will be a good alternative or not.
The attachment loops seem possibly useful but I will need to start using the pack to be sure.
Pockets
The mesh zipped pocket on the inside of the main compartment is a nice idea, but I find it too large, so things I put in there just float around. It would be great to keep the feature but perhaps split it into two or three sub-sections, perhaps giving each its own zipper (though that might not be necessary). Interestingly, I think this split does exist on the 55 and 70 models but not on the 40. Hopefully, future 40 models will adopt the 55 approach not the other way around.
The Farpoint 40 has a large front zipper pocket with padded laptop and tablet/netbook sleeves. I'm not sure if I will use the sleeves or not since I will be traveling with a separate daypack, but if I were to travel completely minimalist (no daypack and no neoprene sleeve), it might prove incredibly useful. It's also nice that the larger sleeve can accommodate a 15-inch laptop and the smaller sleeve can handle a small netbook or large tablet. Finally, I like that there is a Velcro strap that keeps your laptop from falling out of the larger sleeve.
The possible drawback to the large zippered pocket is that it takes up the entire length of the pack and things can easily fall to the bottom and thus be a bit inconvenient to retrieve. I don't know how practical or useful it would be, but I wonder if splitting this large font zipper pocket into two vertically stacked pockets might be helpful. Perhaps a smaller lower pocket (1/3 the height) and a larger upper pocket (2/3 the height) would be an improvement. Assuming the upper, larger pocket could still fit a laptop, naturally.
The usefulness of this zipped pocket will depend on how much you stuff your main compartment. The more full the main compartment, the less you will be able to fit in the external pocket. That will include the mesh pockets, I assume.
The small front zip pocket seems like it will prove useful for quick-access items, though it does not have a dual locking zipper, so that might prevent me from putting in anything too valuable. There is also no internal organizing mechanism.
I like having the front mesh pockets. For obvious reasons, these are only available on the 40. Since I will also be traveling with a daypack, these may not be completely necessary, but it's always nice to have options that don't add any weight or other inconvenience. I read, however, that the external mesh pockets are a bit inflexible, like their counterparts on the daypack.
In an online comment, I read that you can't compress the Farpoint packs down much if you're not carrying a full load. This may or may not be a fair statement, but for the 40 or 55 I can't really imagine having a load empty enough for this issue to be relevant. If this is an important issue for you, note that another commenter did mention that you could use the lashing points on the Farpoint to improve compression.
Daypack
As I mentioned, I opted for the 40 which doesn't include a daypack. Still, you may be trying to decide between the 40 and 55 and so I will tell you what I learned from other reviews.
If both the main pack and daypack are full, it can be difficult to impossible to zip on the daypack.
The daypack apparently does not have a lockable zipper like the main pack, which is a huge oversight.
The outer bottle holders will hold a half liter bottle or so, but will not hold a liter Nalgene bottle very well. In general, they don't have much give in them.
Apparently, the daypack can be hard to stand up due to its rounded shape.
Size
Although the two sizes (S/M and M/L) will accommodate most people, some especially small/short or large/tall individuals might be ill-served by the lack of gender specific options or an adjustable harness.
Miscellaneous
Someone online complained that Osprey has gone overboard on the branding, with logos seemingly everywhere on the Farpoint series. I guess that is actually true. It doesn't bother me much, but I do think it is beyond what is necessary. I count 7 instances of a brand marking (either lettering or logo) on my Farpoint 40.
One complaint I read online is that the harness cover flap is secured in its storage section below the pack by Velcro rather than a zipper and thus might not last well. The same commenter said that the Velcro can scratch your back when carrying as a backpack. I don't know if either of those will prove true for me, but I have noticed that I have to spend a bit more time than is convenient storing the flap because I need to carefully align the two pieces of Velcro. A zipper would definitely make this easier.
A Test Walk
Since I am writing this before starting my next lengthy travel, I decided to take it for a trial. I loaded it up with everything I plan to pack (about 20 lbs. or 9 kg) and walked for about 45 minutes (2 1/3 mile or 3.7 km) in a nearby park. The pack was quite comfortable. I could have walked longer, but I don't actually imagine needing to do so very often, if at all, during my travel so I think the pack will work out great.
Conclusion
Pre-trip, I am very happy with my new Osprey packs. I like that the Farpoint 40 is carry-on compliant and contains an external zippered pocket for any trips I might want to take without a daypack. From what I have read elsewhere, you can probably get on most flights with the Farpoint 55, but if you plan to fly a lot of budget airlines and really want to stick to carry-on-only travel, the 40 is the safer bet. Likewise, If you already have a daypack you love, then the Farpoint 40 is definitely the way to go. If you are in the market for a daypack and budget is a big factor, buying the Farpoint 55 would probably save you about $40-50 compared to buying the 40 and a separate daypack, and besides the included daypack for the Farpoint 55 seems quite nice. As for my Axis daypack, I like it so far, but I haven't used it enough to really discuss its strengths and weaknesses. I'll update this review if I learn anything new that would be helpful.
Photos
Other Reviews and Related Links
Choosing the right backpack for your needs is important and, if you're like me, you're going to want to see multiple reviews and comments for the models on your shortlist. As of this writing, there still aren't a lot of reviews out there. Since you may be deciding between a Farpoint 40 and 55 like I was, I am including reviews for both.
A couple of useful videos:
Where to Buy It
I had a real problem finding any local stores that carried my Deuter and I ended up buying it online, figuring I would just return it if it didn't work out. Of course, you can do the same if you choose to purchase a Farpoint, but there is nothing quite as good as going to a good outdoor equipment retailer and being professionally sized and trying the pack on in the store. If you are in the U.S. and live reasonably close to a REI store, that would be my first recommendation. If you have to purchase online, be aware that depending on the time of year, you may be able to get a good price on the prior year's model. With Osprey, I believe you can usually tell by the colors on offer as I think they change those with each new year's model (though I don't know if this just happened once or is, in fact, a strategy of theirs). If you do see a good deal it is more than likely the prior year's model. You might want to research online or call Osprey's very helpful customer care line (people who actually work at the company, not just some soulless, outsourced call center) to inquire about any major differences between the models. If you want to purchase via Amazon (Farpoint 40, Farpoint 55, Axis), click through from this page and I'll get a small commission.
Full Disclosure
Considering I didn't necessarily need a new backpack, buying one seemed a questionable use of my limited funds. I wasn't set against it, but I did hesitate. I decided to contact the Osprey folks and request an evaluation pack, which they were gracious enough to provide (both the Farpoint and the Axis). I hope it is obvious from what I have written that I decided on the Farpoint without regard to this consideration and I didn't request an evaluation backpack from any other company. You can rest assured that my review is in no way influenced by the manner of acquisition. After some months of use I will provide an update on my thoughts and if there are more negatives to report, I won't hesitate to do so.
There Are
42
Comments
Click to See or Add Your Own »