I have previously written detailed summaries of my travel costs for Central America and South America that seem to be moderately popular. Since I recently finished a full month of traveling in the Philippines I thought it might be helpful to do the same for that country.
How I Travel and Other Observations
Any breakdown of this nature deserves some background information, and the value of my expense tracking will naturally depend on how similar your travel style is to mine. Perhaps the best description of my travel style is comfortable cheap. Whenever possible I try to save costs but I am not on such a tight budget that I will put up with extremely unpleasant or unsafe circumstances just to save a little money. Here are some more details, based on the expense categories I track, of how I travel to help you understand my numbers better:
Lodging
For lodging, I prefer a private room if it is reasonably priced, but I am fine with a shared bathroom. I am also fine with a dorm room depending on the circumstances, including: if I am in a social mood and want to more easily meet fellow travelers; when the dorm is particularly nice; when I plan to be so busy that I just need a room for sleeping; when I just don't think the added cost of a private room is worth it.
Food
I have never been a foodie, and while I enjoy trying local dishes, food rarely takes a central role in my travels. Like anyone, I occasionally want to treat myself to a good meal, especially when I am in a country where doing so is reasonably priced, but I don't do it often. That's as much personal preference as a concern for my budget.
Travel / Transportation
Whenever possible I walk or rent a bicycle. One reason is simply me being cheap, but more importantly, I like the exercise and I find it a great way to see places I would miss if I took taxis (especially useful since I am always looking for good street art). For longer distances, I generally travel by local transportation and avoid taxis. I've never hitchhiked and am slow to the Uber game, though perhaps I should try in the future.
In Camiguin, Bohol, Bantayan and El Nido I rented a motorbike for a day to explore at my own leisurely pace.
Drinks and Entertainment
I am not much of a drinker or club goer. This fact alone is one of the biggest budget savings in my favor.
Tourism
I found many activities in Philippines required a tour guide (either by natural need or by town/tourism mandate). This added to the costs of enjoying various places, but I think it is good to support the local economy and prices were reasonable.
Internet / Phone
At a friend's recommendation, I got a prepaid SIM card from Globe but Smart seemed very popular as well. They have different promotions and generally if you go to a kiosk you can inquire about the latest promotions and even have them help you sign up for them.
My Spending by Category
For the 31 days I traveled (including transit to/from Thailand) I spent US$1,123 for a daily average of US$36.24. That includes all expenses including flights. Below are charts breaking down those expenses by category.
How I Track My Expenses: Get the Spreadsheet Yourself
There are now some useful smartphone apps to track expenses, but when I started traveling in early 2009 I was still years from owning my first smartphone. Instead, I created a spreadsheet to track my travel expenses, which I still use. I suppose it is a bit old school, but it works for me and if you are interested in using it as well, I gladly make it freely available. Just click through for the Google Sheets version or contact me to request an Excel or Open Office version.
The spreadsheet will automatically convert to US dollars and Euros and it can handle a variable number of days, up to 366 (accounting for a leap year), though there is a smaller one-month worksheet as well for shorter trips. It will also automatically graph your expenses by category. If you do use it and find any errors please let me know.
Spending Breakdowns Around the Web
In my Central America cost breakdown I listed quite a few similar budget breakdowns from other bloggers that I have come across which you might want to check out. Alternatively, Jodi at Legal Nomads offers a regularly updated resources page with an even better collection broken down by RTW and part of the world.
General Observations of the Philippines
Most people would love to have 30 days to explore a country. I know I am fortunate to have that freedom. But, there is so much worth seeing in the Philippines that it is quite impossible even given that much time. I am happy with the places I went but there were many destinations that I had to cut from my plans due to time constraints. I guess there will have to be another trip someday.
I believe I was traveling in a shoulder season. I wasn't paying peak season prices but some places said they were entering the busy season. I believe accommodation prices do rise a fair amount in the high season.
People often say the people in this place or that are the friendliest in the world and I have met many friendly people in many countries, but the Philippines was the first where I was very regularly greeted with hellos in the streets by countless locals who did not want to sell me anything. Of course, this behavior was more prevalent among the children but many adults said hello as well. As a corollary, it seemed to me that almost every Filipino is outgoing. I expected a fair representation of shy or introverted people, but I didn't notice any!
Getting accurate information online (schedules, prices, etc.) about ferries can be difficult. Partly this is because many ferry operator websites either don't exist or are not very useful. Another reason is that things change often. Most notably, sometimes a ferry will stop and start a route based on the season or weather.
Internet is the worst of any place I have been. It is truly awful. I guess that makes sense for a country comprised of more than 7,000 islands – it must be difficult from an infrastructure point of view. Exceptions were Cebu and metro Manila, which again makes sense. Note that many accommodations advertise WiFi but this is often nothing more than a MiFi device that guests can share and you can imagine how well that works out. Thus, my recommendation is to get a prepaid SIM card and an unlimited day plan. It will still be slow but at least you won't be sharing, though in El Nido I found that even my data plan was useless in the evenings when I guess the entire community was sharing one very poor connection from the carriers.
I prefer Booking.com to Agoda because it gives the complete price and because it has more search/filter options. However, after some searches I was disappointed in the results and then I checked Agoda and got much better results. My Filipina friend later confirmed that Agoda is the best site to use for lodging in the Philippines.
Most budget and even mid-range accommodations feature shared bathrooms.
There are still remarkably few hostels around the country. Most places are guest houses or hotels, though many of these offer shared rooms which can be rented as a whole by a group (they are not actually dorms).
Few accommodations have hot water, which is hard to understand since electric water heaters for showers are inexpensive and widely used in various other countries.
In general, I found that the western standards of service at accommodations were absent or very inconsistently applied. One example is the lack of hot water just mentioned coupled with the provision of towels and soap. It didn't lead to any terrible experiences but is worth noting.
Filipinos seem to travel in groups. This helps explain the shared rooms mentioned already as a group traveling together will often share one large room.
Filipinos LOVE karaoke and basketball (especially the NBA). You will probably read this elsewhere, but you have to witness it to fully appreciate it.
Filipinos seem to love sweet (VERY sweet). If you are getting a fruit shake or juice, you will probably want to ask for less or no sugar.
Also on the topic of food, it is true that there is a LOT of fast food in the Philippines and some of the food might deserve its generally bad reputation, but it seemed to me that the real problem was more of knowing what dishes to try and where to find them. Because when I did get to try some local dishes in regular restaurants, I was quite satisfied. In terms of quick snacks, there are myriad bakeries—large and small—wherever you go.
I mentioned already but many places require you to use an official guide or take an organized tour. This worked most smoothly in Sagada where all guides are registered and the distribution of tourists to guides was coordinated and (I presume) fair.
I rented motorbikes (scooters) multiple times – it is a great way to explore if you are comfortable riding one. I mostly was doing so in towns and rural areas so I didn't have to worry much about crazy city driving.
Speaking of motorbikes, prices seem to vary greatly by area. For example, I paid 350PHP per day in Camiguin, 500PHP in Taglibaran, 300PHP in Bantayan, and 500PHP in El Nido (and I saw ads for 250PHP in Puerto Princesa).
I never had any problem speaking English wherever I went, but I was a bit surprised at how little it seems to be used in the everyday life of locals.
My Philippines Trip Itinerary
I stayed in the Philippines for the maximum 30 days allowed and visited the three major island groups. I flew into Manila but immediately caught a connecting flight to the south and then worked my way north and west, finishing in Luzon. Here is my exact itinerary along with some notes for each place I visited.

| | |
| --- | --- |
| Day | Itinerary |
| 1 (January 16, 2016) | Arrive Manila; Fly Manila to Cagayan de Oro (CDO); Travel from CDO via bus and then ferry to Camiguin Island |
| 4 | Ferry from Camiguin to Jagna, Bohol; Bus from Jagna to Taglibaran |
| 7 | Ferry from Taglibaran to Cebu City; Bus from Cebu City to Hagnaya Port; Ferry from Hagnaya to Bantayan Island |
| 12 | Ferry from Bantayan to Hagnaya; Bus to Cebu City |
| 13 | Flight to Puerto Princesa |
| 14 | Bus to El Nido |
| 19 | Bus to Puerto Princesa |
| 20 | Flight from Puerto Princesa to Cebu City |
| 22 | Flight from Cebu City to Clark Airport; Bus to Quezon City |
| 24 | Overnight bus from Quezon City to Sagada |
| 27 | Bus/Jeepney from Sagada to Banaue |
| 29 | Overnight bus from Banaue to Quezon City |
| 30 (February 14, 2016) | Flight from Clark Airport to Kuala Lumpur |
Camiguin Island
Camiguin is a lovely island off the northern coast of Mindanao, accessible either by ferry from someplace like Bohol or by a flight to CDO and then a bus/ferry combination to the island (ferry leaves from Balingoan Port and arrives Benoni Port). I included it in my itinerary at the suggestion of a friend from the Philippines. Since it was my southernmost destination, I made it my first stop.
This is a great place to rent a motorbike for getting around, though there are motorized tricycles (motorela) and individual motorbike taxis (habal-habal) plying the main road as well which are convenient.
I saw the main attractions for the island, the most famous of which is White Island, which you need to reach via a small boat that costs about 450-500 PHP. This is quite expensive for a really short boat ride, but that price is for the boat so if you can arrange to share the trip with others it can be quite cheap.
Where I stayed
Caves Dive Resort (900 PHP). A nice, but sleepy little beach-side place (Agoho Beach). Shared bathroom, comfortable fan-only room. WiFi terrible (like everywhere). Not really near anything so you will need transportation to get to and from.
Useful Links
Bohol (Taglibaran)
Bohol—home of the famous tarsier—is a recommended destination that can be enjoyed for multiple days or even as a long day trip via ferry if you find yourself in Cebu City. Many (most) visitors choose to base themselves in Panglao, which is home to a nice, but very touristy beach. Other visitors choose a more relaxing jungle stay in Loboc and I met travelers who said nice things about doing so. Probably not many decide to stay in the city of Taglibaran, though that is exactly what I did. I admit the city is nothing special and I knew this beforehand. But, my plan was to rent a scooter to see the island and so I just wanted a convenient base. Plus, the accommodations were cheaper and it is very close to the ferry port to Cebu. So, overall I am happy with my choice.
You can do all-day tours in Bohol, but I opted to drive myself around on my rented scooter and that worked out well. I did do the Loboc river cruise with lunch, which wasn't bad but wasn't so great either. All told, for that cruise, a visit to the Tarsier Conservation Park, the hanging bridges and the chocolate hills entrance fee I paid 630 PHP.
Where I stayed
Nisa Travelers Inn (500PHP). This is a fairly well-known place in Taglibaran yet you cannot book online so you will have to call or email, or just show up, as I did, and there will probably be a room available. I booked a single, fan room with shared bathroom and breakfast was included. The hotel was clean and the staff very pleasant and helpful. The room itself was small and basic and had open walls at the top, so noise from neighbors can be a problem. I rented my scooter from the hotel itself and, as a result, probably paid more than I needed to, but it was convenient and hassle-free.
Useful Links
Bantayan Island (Cebu)
My original plans were to maybe visit Oslob and Moalboal but after reading some very good things about Bantayan I decided to go there instead and am glad I did. It is a sleepy island with some nice beaches and overall a great place to just spend a few days relaxing. I took a snorkeling and island hopping tour here (including the very nice Virgin Island). I shared the cost with another traveler I met on the ferry ride over and paid 550 PHP with use of a snorkel.
Where I stayed
Nordic Inn (900 PHP, single room with fan, private bathroom). This place was nice but I think overpriced.
Seven Star (450 PHP, fan and shared bathroom). After staying a few nights at Nordic Inn I moved down the street to this more modest place that was run by a sweet woman named BB. The room was small and basic but it was actually closer to—and had a mostly unobstructed view of—the beach. BB can arrange an island hopping tour too.
As with Seven Star, I think there are quite a few places on the island that are reasonably priced that cannot be found online so maybe just showing and searching for a place is a good idea. On the other hand, Bantayan isn't yet a huge foreign tourist destination but it is popular with Cebuanos and so places can fill up, especially on weekends. So, I would probably book a place online for one night and then look around to see if you can find something better for less money.
Useful Links
Cebu
I spent two nights in Cebu City, first in transit from Bantayan Island to Puerto Princesa and then again in transit to Quezon City. There aren't many tourist attractions in the city, but there is enough to merit a day of sightseeing and it seems like a decent place to possibly base as a digital nomad if you are so inclined.
Where I stayed
Pe're Aristo Guesthouse (425 PHP, single with fan and shared bathroom). This place is technically in Mandaue and I chose it because it seems to be close to the airport. It wasn't a terrible place (though the bathroom was pretty beat up) but it was actually fairly hard to find. The worst thing was that I asked the staff to call me a taxi to go to the airport for my flight to Puerto Princesa. It was raining at the time and after the taxi was about 10 minutes late I asked the person who had called the taxi what was the situation and he told me because of the rain the taxis were all busy and none would come. OK… that would really have been good information as soon as it was known. If I hadn't asked, I would still be waiting there. Unfortunately, to get to a main street where taxis actually pass was about a 10+ minute walk. So, in the end, I chose this place for its convenience to the airport and it was anything but that and the price for the taxi wasn't that much cheaper than the fare I paid from Cebu City later in my trip. Another downside to this place: there are no restaurants nearby and the breakfast I had at the hotel (included) was pretty bad. In summary: avoid this place.
Elicon House (580 PHP, single with private bath and A/C). I stayed here on my second passing through Cebu City and this place was great. It is more or less a fairly large hotel, and my room had no window, but it was clean and comfortable and very professionally run. It is run as a green operation (the name comes from Ecological LIving and CONservation House) and it is in a great location, walking distance to main tourist attractions and the south bus terminal. Also, even though there are many places to eat nearby, I ate two decent and inexpensive meals at the hotel restaurant. One negative is that WiFi doesn't work in the rooms. On the other hand, it worked fairly well in the common area and the common area is spacious and comfortable. In summary: I highly recommend this place and wish I had stayed here both of my nights in Cebu City.
Useful Links
Puerto Princesa (Palawan)
I stayed in Puerto Princesa a night each en route to and from El Nido. It would also be a natural base to visit the underground river, which I did want to see but ended up skipping to spend more time in El Nido. There aren't a lot of tourist attractions in Puerto Princesa so you really don't need to spend much time here but the timing of flights and the travel times to some popular destination on Palawan mean you might indeed need to spend a night or two here.
Where I stayed
Your Space Pensionne (425 PHP, single room, fan, shared bathroom). This place was nothing special, but completely fine for a night or two and within walking distance to the airport (assuming you don't mind a 15-20 minute walk). My room was very small and a bit hot with just a fan but I am sort of used to the heat. A British girl staying there told me she found it unbearably hot. I don't think they offer A/C private rooms, though perhaps the dorms are air conditioned.
Puerto Bayview Backpackers (400 PHP, single room, fan, shared bathroom). This place was marginally better than Your Space but just so. Again, completely fine but nothing special. I think the room I had was even tinier than at Your Space but the fan was a bit more powerful so it was overall a bit more comfortable.
Useful Links
El Nido (Palawan)
I read mixed reviews of El Nido before arriving. Most people absolutely rave about it but there is a growing chorus of people claiming its charms are exaggerated and the tourism has gone too far. I tried to keep my expectations level and I can say that I understand both points of view. El Nido and the surrounding areas are undeniably beautiful and it is equally undeniable that the place has become enormously popular on the backpacker circuit as well. Maybe not to Boracay levels yet, but perhaps it is heading that way? Regardless, I think it definitely worth visiting if you keep in mind that it is not some unspoiled paradise just waiting for you to enjoy.
The town has implemented tourism rules restricting tours (barely) and instituting an environmental fee for said tours. I have no idea if these things are just to further generate revenue or if they are being used for protection and smart growth purposes.
I rented a scooter here to visit Nacpan Beach (highly recommended) and to see the incredible sunset at Corong Corong Beach (the sunset at is not really so great at Nacpan due to the geography of the place). I also did Tour C (1000 PHP for the tour and 200 PHP for the environmental fee) and with two other travelers hiked the local peak (250 PHP each for a guide).
Note: there IS an ATM in town (many people have written that there is not) BUT it seems to be out of service often, and when it did re-open one morning a German girl I met was unable to successfully use her card. So, bring enough cash with you.
Where I stayed
Miikeys (600 PHP, room with two beds, fan, shared bath). This place was recommended by someone staying in the same hotel in Puerto Princesa. It isn't online and is sort of easy to pass by because it is in a small courtyard across from the main church. This recommendation turned out to be very good because (1) most budget places were already booked by the time I arrived in late afternoon and (2) it was a very pleasant place. Again, no luxury but clean and basic and conveniently located. Not on the beach, but you won't find anything for this price range on the beach anyway.
Useful Links
Quezon City / Manila
Honestly, the only place in the Philippines I had no interest in seeing was Manila. I probably would have skipped it entirely except my one friend from the Philippines (we met traveling in Brazil) lives there. Fortunately, she lives in Quezon City, just outside Manila and this is a much nicer place to be (as far as I can tell, since I only spent a day sightseeing in Manila).
Note that I stayed in Quezon City twice. Once on my way to northern Luzon and one night on my way back before leaving the country.
Where I stayed
Yuj Inn (900 PHP per night). This place was recommended by my friend as it was close to her apartment. The room was fairly small, but very clean and the A/C worked remarkably well. The WiFi was also decent here and the staff was pleasant. The area where this hotel is located is, as I understand it, a university area and I think a bit trendy so it felt very clean and safe and there were many restaurants nearby.
Useful Links
Sagada
Sagada was a nice little town and quite popular with foreign tourists and locals alike. In the past, there weren't direct buses to Sagada but now there are. I only spent two nights here but if I had more time I would have been quite happy to stay longer.
In Sagada, most activities require a tour guide and these are arranged in an organized way by either the main tourism office or the tour guides office (just down the street—it is a small town). I think requiring a guide to see the hanging coffins is a bit of overkill since it is so incredibly easy to reach on your own. But, it wasn't expensive (200 PHP for a guide) and would be even less so if you are in a group. In fact, if you are alone, I recommend that you go to the entrance area (past the church) and just wait for a group to show up and join them.
Besides the hanging coffins, I did a tour of the big waterfall (Bomod-ok Falls) with a couple that was staying in the same hotel. We had to pay for private transportation and the guide and my share was 410 PHP. I also did the Cave Connection, which was actually somewhat challenging and, I daresay, a bit dangerous in some spots. A guide for that is 800 PHP, which I shared by going with another traveler I met in my hotel.
Note: for such a small town, there are quite a few good dining options, though I found the famous Lemon Pie House to be overrated.
Where I stayed
Isabelo's Inn and Café (450 PHP, single room with fan and shared bathroom, breakfast included). This place was nothing special but I liked it. It was comfortable and reasonably priced. The room didn't have much in the way of sound proofing, but fortunately I didn't have any noisy neighbors during my stay.
Indigenous Handicrafts and Inn (300 PHP, single with shared bathroom). I had to move to a new place because Isabelo's was fully booked for my second night. I just walked down the hill and checked out a few places and settled on this one (in a large yellow building). The room was quite nice and had a balcony with a decent view of the hills, though no towels or even toilet paper are provided.
Useful Links
Banaue (and a few hours in Bontoc)
I just stopped a few hours in Bontoc on my way from Sagada to Banaue, long enough to visit the local museum which I had seen recommended online. It was nice but not spectacular. I heard there are some good hikes around Bontoc that might make a stay there worthwhile but I didn't have time.
Banaue as a town is pretty uninspiring, but it is the base for visiting the world-famous Batad rice terraces and, in fact, there are other very nice places in the vicinity worth visiting (including my favorite, Bangaan).
My main tourism expense in Banaue was the trip to Batad and Bangaan which was 2300 PHP (I paid half this by sharing this with another traveler I met in town).
Where I Stayed
Uyami's Green View Lodge (300 PHP, single room, shared bathroom). This was actually a fairly nice place that was very popular (always lots of people hanging around the restaurant/common area in the evening, many waiting for the overnight bus back to Manila). It is also one of the cheaper places in town, so even though they have a locked hot water shower that you need to pay 50 PHP to access, the price with a hot shower is still quite good. I actually arranged my Batad tour through the hotel.
Note: If you have time, I would recommend staying a night in Bangaan. It is a tiny village in the middle of some impressive rice terraces and there is only one guesthouse there. There is no website or even a telephone number to call, but the owner, Delly Dulnuan is a sweet woman who offered me and the other traveler I was touring with coffee and hospitality. I think if you just show up there you will have no problem getting a place for the night and it will be a nice change of pace from Banaue.
Transportation Note: there are three overnight buses from Banaue to Manila and the prices are similar. I took Dangwa (formerly GV Florida) and I think it was the best for two reasons: (1) it left a bit later than the others, thus arriving in Manila a bit later (though still VERY early a.m.) and (2) I wasn't freezing during the ride unlike most people report doing on the other two buses.
Useful Links
A Few Photos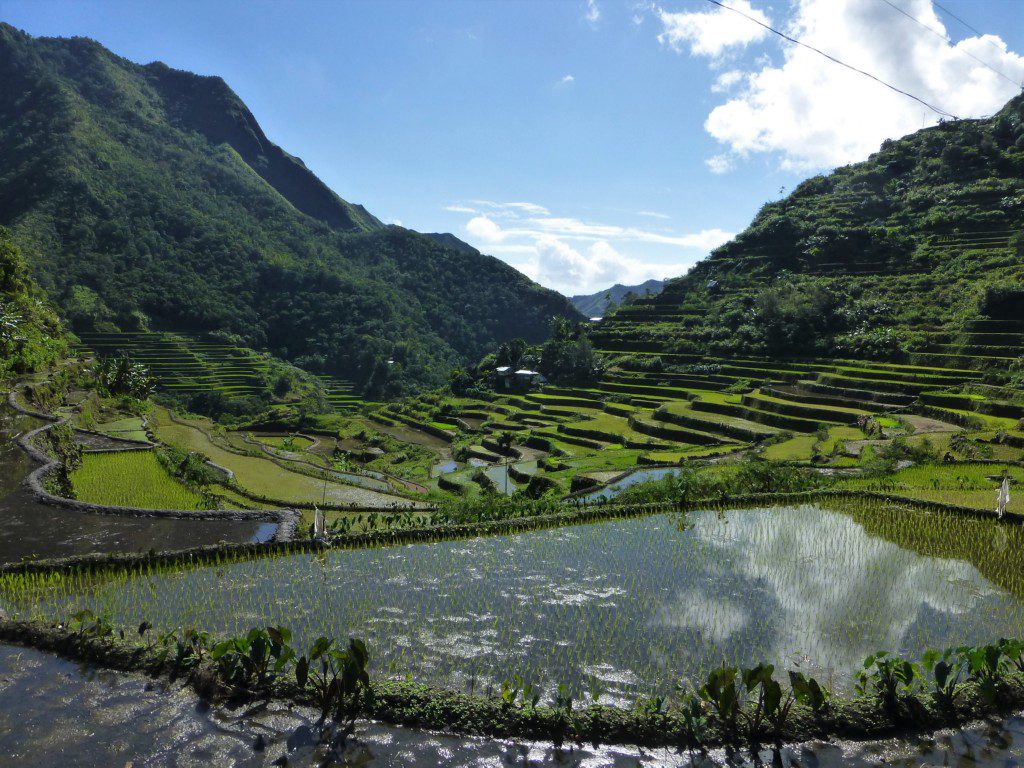 More Information about the Philippines
I have included some links I found useful for the various places I visited during my trip but below are some more worth reading.
Travel Guides and Videos:
Bloggers Covering and/or from the Philippines
Locations I Didn't Visit
Miscellaneous Links
Food
What to Eat when Traveling Around the Philippines