UPDATE (March 07, 2018)
: I recently came across a new used bicycle shop that mostly specializes in imported Japanese bicycles and has a large selection that changes pretty regularly. The store is called
Jakkayan Baan Hug
(
จักรยานญี่ปุ่น บ้านฮักแล้วถีบ เชียงใหม่
| jàk grà yaan yîi bpùn bâan hák). It's a bit out of the way so getting there might be a hassle but if you do buy from them they will deliver the bicycle for you.
‌
I also found another, much smaller shop, but one that is close to the old city. I don't know the name and it is really more of a
motorbike rental and repair shop
right next to the
Chiang Mai Bus Terminal 1 (Chang Phueak Bus Terminal)
north of the North Gate. I'm not sure the shop regularly displays the bikes outside or not so you may need to go inside toward the back to see the selection. When I was there they had about a dozen mostly Japanese bicycles with typical pricing and good quality.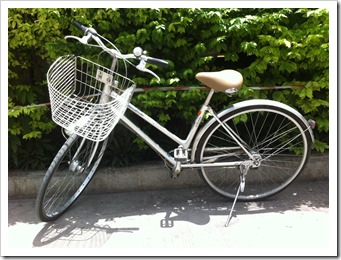 Chiang Mai has become a hot destination for digital nomads and others looking for an inexpensive but pleasant city to spend extended periods of time. Recently, I joined the group and have settled down in Chiang Mai for a spell. There are many good articles on various aspects of the city, but what I have noticed is that everyone (well, not everyone I guess) seems to rent or buy a scooter and so there is good advice on doing so, but not so much advice about bicycles. Since Chiang Mai is a flat and fairly small city, I am not sure why so many opt for a scooter over a bicycle but it is the latter that I want to own. While there are no shortage of places to rent bicycles around the old town, purchasing a bike isn't as easy (or cheap) as you might expect. Here's some tips I have gathered from my research and purchase experience.
Options
Your first decision needs to be the type of bicycle you want. You can get a high-end road or mountain bike, a basic "city" bike or something in-between. Well-known brands like Trek aren't as popular or easy to find here, and they can be somewhat expensive for just a temporary stay.
You can purchase new or used, but be aware that even low-end used bicycles might be more expensive than you would imagine paying back home or, at least, seem like a poor value. Often the cost of a used bicycle isn't much less than a new one of the same model.
If you are tall, finding a bike suitable for your size might be a challenge. Since I am somewhat vertically challenged, I didn't have to worry about this issue, but I think taller shoppers might have to either accept a less comfortable ride or spend more money on a higher-end purchase. I have no measurements to back this up, but it seems that the style of the city bikes, being a more upright ride with higher handlebars, might accommodate longer legs a bit better than one of the mountain bike or other styles.
If you are primarily planning to use your bike to get around town, a basket is a helpful addition for storing groceries and small purchases. Some bikes have back racks as well for more storage or for transporting a passenger, and some bikes also include rear well extension posts for passengers to secure their feet, though I doubt carting around passengers will be much of a worry for most of us moving to Chiang Mai.
Most basic bikes seem to be made of steel whereas some of the "city" bikes are made of aluminum. If this is an important distinction for you, keep it in mind when shopping around.
Finally, if you are just searching for a bike to get around the city with, be aware that most such bikes only have one gear. Truthfully, that is fine for the flat terrain you'll be dealing with, but if you prefer to get out of the city a bit you might want to pay a bit more for a multi-gear bike.
Where to Buy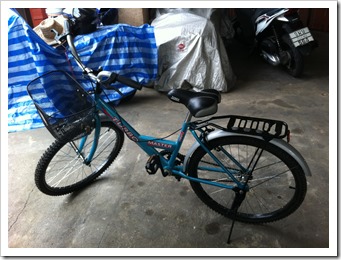 Once you know what kind of bicycle you want to buy, the big question becomes where to do so. One useful resource I found is this list of Chiang Mai bicycle shops. I like this list because it provides the GPS coordinates which you can easily plug into Google Maps, since searching for locations in Chiang Mai in Google Maps is often a very frustrating experience. Chaingmaicycling.org offers another list, with short descriptions and phone numbers but no map, though there is a lot of overlap between the two lists so consult both. There are also some relevant threads on the Thai Visa forum, which would be a good place to ask any more specific questions.
One option for finding a second-hand bike would be via a classified ad, though my experience was that there was only one bike for sale and it was snatched up fairly quickly. Classified ad sites for Chiang Mai include Thai Visa, Citylife Chiang Mai, and Bangkok Post. Chiang Mai Community Church apparently hosts a classifieds newsletter as well. I read there was a Chiang Mai Craigslist, but either that is no longer true or people meant you can use the Bangkok page and do a search for Chiang Mai listings. There are also a few Chiang Mai related Facebook groups, but check their policies before posting.
There are two large box retailers with multiple locations around the city, Tesco and Big C. I haven't visited a Big C, but I only read very negative opinions of the quality of bikes sold there. The consensus seems to be they rarely last longer than 6-12 months and are difficult to repair when problems do occur. So, only buy one of these if you are treating your purchase as a throwaway. Besides, my browsing at Tesco made me realize that the prices aren't even that great regardless of quality. There is also a shopping mall located on Huay Kaew Rd just a bit past the NW corner of the moat (on the left, or South side). It kind of sprawls, but if you head back toward the left and go to the third floor (I believe) there is a large sporting goods store that also sells bikes, which seem to have been of more reputable brands and quality.
There is a Thai brand known as LA Bicycle, that is both a manufacturer and a retailer. One of the retail locations is on the NE side of the old city, on the main ring road inside the moat. The other is on the SW side, on the left side of the main road leading south of the SW corner of the moat. I went to both. I couldn't get anyone at the NE location to talk with me (could have just been a busy day) but I found the gentleman at the SW location to be very friendly and helpful and he spoke decent English. LA bikes are quite common around town and I gather their quality is much better than the box retailers options, but I imagine much lower than Western brands, though the prices are much lower as well. In fact, the prices for a new, basic LA Bicycle are similar to the box retailer options.
There are a handful of specialize bicycle retail shops that offer higher-end options. From my online browsing, Jacky Bike gets good reviews for selection but lousy reviews for customer service. Most people seem to praise Chaitawat and a couple of people said good things about Song as well. Further along Huay Kaew Rd, past the mall, are a couple more standalone bike shops, both on the same left-hand (south) side of the road and both before the canal (so if you get to the canal without seeing them you have gone too far). I don't know how good these shops are but they might be worth visiting. For the rest, I didn't read any specific feedback. I didn't personally check out too many shops so I can't say which, if any, offer low-end options. In the end, I bought mine at Cacti Bike after a local I met told me she bought hers there and I can say that the owner was very friendly, helpful and spoke good English. He also had a decent mix of lower-end city bikes (mostly Raleigh and LA Bicycle) as well as some nicer Trek options.
There is another shop that I think is not on any of the lists. The guy who rented me a bicycle my first few days told me about it and I think it is where he buys his from. The shop isn't even a real store, but just a shed out NE of the city, east of the river near the end of Rattanakosin Rd on the north side of the road (a bit east of the Lanna Cultural Center if you are using the tourist map you get at the train station). His specialty is used city bikes and his English is decent.
Prices and Resale Value
As with so many things in life, bike prices are relative. If you compare quality and price to other places in the world you may be happy or unhappy. Of course, if you compare to renting a scooter instead it might seem a great bargain regardless.
For a lower-end used bike you can expect to spend between 1500 and 3500 THB, though that lower end is for direct sales via a friend or classified ad. I never saw or read about a used bike going for less than 2,000 THB in a shop and 2,500 seems to be a common price point. A new bike will vary a lot depending on style and quality, but at LA Bicycle I was quoted 4,000 THB for both a new city bike (aluminum) and a mountain bike styled city bike (looks like a mountain bike but really isn't). There were higher-end models as well, but I didn't inquire the prices of those.
The cheap Tesco bikes run from around 2,500 THB to around 7,000 THB, though the cheaper models are for smaller 24-inch wheels that might only be suitable for smaller individuals. The cheapest 26-inch option I saw was 3,500 or 3,900 THB (I forgot which).
Since I was buying a lower-end bike I didn't do a lot of research on nicer bikes, but at Cacti I was told some prices on new Trek mountain bikes that ran from 12,500 THB to about 15,000 THB.
When I visited the used shop out east of the river, I was quoted prices on used city bikes between 2,200 THB and 2,800 THB, with the latter offering six gears, and an automatic sensor road light.
Keep in mind you'll want to invest in a lock and, if you plan to ride at night, a lamp. The former can be had for around 200 THB and the latter for about 500 THB.
Finally, there is the issue of resale value. With the relatively high cost of used bikes in town, you should be able to recoup some portion of your purchase price. Some of the shops (I am not sure which) apparently will buy your used bike or you can sell via a classified ad. The only ad I saw had been sold by the time I called about it less than a week after being placed so I presume it shouldn't be too hard to sell.
Note: I know that bargaining is common in Thailand, but not always. Honestly, I am one of the worst hagglers in the world and I didn't even try. I'm not sure if you are supposed to haggle for a bicycle purchase or not. If anyone reading this knows, please comment.
My Purchase
As mentioned, I purchased my bike from Cacti. I chose one of the LA Bicycle "fake" mountain bikes. It is used but in excellent condition and it has six gears (Shimano). I opted for the multi-gear bike just in case I decide to ride up to the mountains, but it remains to be seen if the extra cost will be worthwhile or not. My price was 3,500 THB, only about 500 THB less than a similar new bike at the LA Bicycle shop, but the model I have seems to be different (nicer) than the one I test rode at LA Bicycle so overall I am happy with my purchase. The owner of Cacti also gave it a good tune-up before I left the store and, while there are generally no warranties in Thailand (other than body defects), I feel (hope) that if I have problems I will get good service at Cacti. I should note that I debated whether to get a new city bike (Raleigh) or the one I ended up choosing. They were both the same price. The one thing I like abut the city bikes is the way you ride in a more erect posture, plus the seats are often more comfortable, which helps with the bumpy roads and lack of bicycle shocks. Still, I have been using my bike now for more than a week and I am pleased with it so far.
There Are
36
Comments
Click to See or Add Your Own »