About a year ago there was a big AirAsia sale and I got a great price on a direct flight from Chiang Mai to Changsha, China. I knew nothing about Changsha or the surrounding area (Hunan province) and this would be my first trip anywhere in China. As it turns out, the nearby cities of Wulingyuan, Zhangjiajie and Fenghuang make for a great 1-2 week trip.
About the Area
The main draw to this part of China is the natural beauty of Zhangjiajie National Forest Park (which is accessed via Wulingyuan) and Tianmen Mountain, and the old-China look and feel of Fenghuang, especially at night. The city of Changsha is fine enough, but offers fairly little of true touristic value.
The location of the park, the mountain, and Fenghuang make it quite convenient to do a loop (in either direction) starting and ending in Changsha. One to two weeks would be good for seeing everything. I would spend 2-4 days at the national park, a full day for Tianmen Mountain and at least one night in Fenghuang. Considering transportation logistics, you may need to spend one or two nights in Changsha and you may need to spend an extra day in one or more of the other locations as well. It would also be good to schedule extra time to allow for bad weather.
Weather
Because Tianmen Mountain and Zhangjiajie National Park are at relatively high elevations and are outdoor activities, weather will dictate how good your experience will be. Unfortunately for me, it was raining and cloudy/foggy almost every day of my trip. I had read that October is a good time to visit so I am not sure if that is a lie or if I just had bad luck.
As I mentioned, it would be ideal if you could plan a few extra days to allow for bad weather. Likewise, you might want to decide which way to travel the loop of sites depending on the forecast for your days in the area. Fenghuang is best viewed at night and so will be fine even with some rain but the park and the mountain are disappointing if you have rain and fog.
Check out Weather Spark to get detailed weather information for Wulingyuan, Zhangjiajie, Fenghuang and Changsha.
A local man I met in Wulingyuan told me that the park is usually terrible after rain. That proved to be true for my visit and I think it also applies to Tianmen Mountain, so you might consider that in your planning.
Transportation
Changsha
Changsha currently has two subway lines with at least two more planned (see station map). I didn't need to get around the city much, but Line 2 was convenient for where I stayed and the places I did go. Fares vary by distance but are inexpensive (typically ¥2 or ¥3).
Getting to and from the airport is quite convenient as there is a comfortable bus (¥16.5) that travels frequently to and from the Civil Aviation Hotel close to the main train station in the city. The travel time is about 30-45 minutes. The last bus is timed to leave the airport after the final flight arrives, so I had no problem with my flight which arrived at 22:30.
There is also the maglev train option (¥20) that will take you quickly to the South train station but its hours are more restricted (09:00–18:00 in 24 minute intervals).
Between Cities
There is a train between Changsha and Zhangjiajie city but the bus is the only real option for the other legs of the loop. The train has three seat options (regular and hard or soft sleeper) with prices ranging from ¥55 to ¥310 (prices change based on the schedule as well as the type of seating). You can use the Travel China Guide, China Train Guide or Ctrip sites to see prices and schedules. Ctrip will also allow you to book online using a foreign credit card. Do be aware that train seats can often sell out days in advance.
If you opt for the train or even the bus between Changsha and Zhangjiajie city, you will have to backtrack a bit (about an hour) getting to Wulingyuan. If you want to avoid that, there are a few direct buses between Changsha and Wulingyuan that leave from the West bus terminal in Changsha.
You can see bus schedules and prices on the China Bus Guide site. Here are the prices and trip duration for the relevant routes.
As you can see, bus rates seem to be about ¥20-25 per hour and all that I took left more or less on time (usually about 5 minutes late).
Something strange about the longer buses I took is that there seems to be a packaged foods salesperson that makes the trip and at one point will start speaking. For a very long time. Fast. Non-stop. I presume they were making some kind of extended sales pitch as after they finally stopped speaking they started selling products to—what seemed to me—a relatively receptive and even enthusiastic audience. Sometimes there even was laughter and clapping during the presentation.
General Observations and Travel Tips
Customs, Culture and Behavior
You can read a lot about the cultural differences, especially in manners, between Chinese and pretty much the rest of the world. Most of what you read is negative. I don't want to add to all that negativity, but it is important to realize that we are talking about different cultures and some understanding and acceptance (even if not appreciation) is warranted. Also, as a counterbalance I would recommend reading "Chinese Tour Groups Suck" which tries to give historical and geographical context to things.
Here are a few specific things I noticed that might be worth mentioning. Again, I am not passing judgment, just pointing out things I experienced that you might see yourself.
Drivers honk…a lot.
Chinese people, mostly men, smoke…a lot. It reminded me just how much the smoking culture has changed in the U.S. since I was young. In China it seems that smoking anywhere and everywhere is still common (e.g., no bans in buildings or public places). It does seem to be prohibited on buses though.
I read that Chinese people spit a lot. I definitely noticed it but it wasn't as prevalent as I had been lead to believe.
I have read about the small children with "poop pants" that relieve themselves in public but I didn't see that during my visit.
Americans have a reputation for being generally loud. Chinese, on the other hand, seem to shout even when having a close range conversation. I noticed the same thing in Vietnam. Not speaking the language, I cannot say if this is a language or culture issue. Often I heard some shouting and it seemed like a fight was about to break out but—who knows—maybe they were saying nice things to each other.
I think texting is not a big thing in China (I presume because typing in Chinese is inconvenient). Instead, many people talk. No problem, that's what phones were originally designed for. But, I noticed that most people seem to prefer to use video rather than just voice. I also noticed that very few people seem to bother using earbuds. As a result, you will see lots of people speaking "at" their phones (generally loudly) and will also have the pleasure of hearing the other side of the conversation. For whatever reason, there seems to be no regard for disturbing people nearby. This was the case on most of my bus rides, so I highly recommend bringing some music to listen to.
Tour groups. You have probably seen that Chinese often travel in large tour groups around the world. I wasn't sure if this was just for international travel or not. It seems to be the case for domestic travel as well since these places are all quite popular with Chinese tourists and most seemed to be part of an organized tour group.
Language Barrier
I don't know how it is in Beijing or Shanghai, but in 11 days I only came across a few people who had a decent command of English. Be prepared to pantomime to communicate. It might be worth learning numbers and a few survival phrases. Also note that instead of saying yuan to discuss prices, they use the word kuài.
I have a few language survival tips:
Print out or take photos of anything you may need to ask someone about, like the address of your hotel, a restaurant you want to find, etc.
Install the Google Translate app and download the Chinese dictionary for offline use. You cannot use Google in China without a VPN (see below) but with the offline capability that is not a problem. There are other translation apps but the really cool thing about Google Translate is that you can use your camera to instantly translate any Chinese text you see (this is the old WordLens app technology). I used this often, especially at restaurants. It is often wildly inaccurate and can be a bit finicky, but it is still very helpful.
The other translation app I recommend is Speak & Translate, but only if you plan to have mobile Internet access since connectivity is required to use it (though I checked once and it doesn't seem to need a VPN). One cool feature is that you can change the speed of the translated audio output. It also offers an option to take a picture and have it translated but I didn't try that (I think it is a premium feature). One thing I didn't like is that it automatically saves your search history so you have to scroll down to enter a new search. I checked the help section and apparently you can delete searches but the instructions were vague. I finally figured it out but it isn't straightforward.
Staying Connected, SIM Cards and VPNs
All the places I stayed offered free WiFi, but it was usually pretty slow, sometimes painfully so. A few places—notably the Changsha airport—offer free WiFi but note that you will need a WeChat app account to access it (usually via a QR code). You may also be able to login via a local phone number.
Speaking of local SIM cards, should you get one? I was originally planning to, but in the end I survived 11 days without mobile Internet access. If you have a global roaming plan from your home country, that might be a good alternative (check the prices) as all your connections will be treated as though you were back home, thus you won't need a VPN to access any (normally) blocked sites.
If you decide to buy a local SIM card, there are three main carriers, but only China Mobile and China Unicom support GSM (China Telecom is CDMA). I saw the following sign in one of my hotels offering an unlimited plan for 7 days for ¥60. The Prepaid Data SIM Card Wiki site offers a lot of information and claims that all providers are now offering a default rate of per GB of data.
Whether you use a local SIM card or WiFi, you will need to worry about the famous Great Firewall of China, which block access to many sites, including Google, Facebook, Skype and Twitter (Yahoo! seems to be unblocked). The way around this is via a Virtual Private Network (VPN). The problem is that there are a great many to choose from and not all of them work effectively in China. There are also free and paid versions. So, my biggest suggestion is to do your research (better than I did!) and install any VPN programs before arriving since access to popular VPN sites will be blocked so you won't be able to download the programs in the country.
If you are addicted to Facebook, a paid VPN might be worth the price. For free options, I had success with Psiphon for my laptop but couldn't get the popular Betternet to work for my laptop or my iPhone, though others have said it does work. I had some luck with VPN Master but it was hit or miss as well.
I think there are two big problems with VPNs. First, obviously, is how good the VPN itself is. How much traffic it can handle, how many servers it has and in what countries, etc. Second, even a good VPN will not work well if your Internet connection itself is bad. That, unfortunately, was the problem I encountered most of the time by using only bad WiFi. Perhaps a paid VPN would perform better with a weak connection but I didn't try one so I cannot say for sure.
Note: Keep in mind that if your default search engine (i.e., what you use when you just type a search into your browser) is Google and you are not using a VPN you will be out of luck. This probably seems quite obvious, but since we tend to be creatures of habit, you can easily forget this and spend unnecessary time waiting for your search to work when it never will. I also found my preferred alternatives, StartPage and DuckDuckGo, don't work (probably since they rely on Google for results). I don't think I tried Bing, but Yahoo! worked.
Maps
As I mentioned, Google is blocked in China so Google Maps will only be an option if you use a VPN. And, unfortunately, you cannot download any Google China maps for offline use. I normally use Pocket Earth, which relies on OpenStreetMap (as do many competing apps). I love Pocket Earth, but OpenStreetMap isn't nearly as complete in China as Google Maps is. It mostly worked fine, especially for Changsha, but it didn't have the area where my hotel was located in either Zhangjiajie or Fenghuang and those were fairly close to the center of town (it did have the hiking trails for the national park though, which was very helpful). So, if you plan to have mobile Internet access and a VPN, stick to Google Maps. Otherwise, you might want to print out or take a screen capture of the map to your accommodation.
Lodging
It is important to know that some hotels are only available to Chinese residents. Agoda seems to warn about this but Booking.com only shows a small note under the room type section and it is unclear whether you are allowed to book those rooms or not. I would think not, but I noticed reviews by foreigners for places that supposedly only allow Chinese residents. I don't know what to make of this. Perhaps foreigners booked rooms not knowing they are prohibited and the staff at the hotel didn't enforce the rule? If you know more about this, please share in the comments.
One nice thing is that many hotels allow a very late free cancellation policy, sometimes as late as 18:00 on the date of your stay. This is great for making tentative plans.
In Fenghuang there is usually an additional (¥20 or ¥30) charge to use the A/C or heat.
Drinking Water
Tap water is not safe to drink. Bottled water is generally inexpensive, though more expensive than other countries I have visited. Some shops (like near the bus station) did seem to charge outrageous prices so shop around.
Many bus stations and some other places (like rest areas on the highway and entrances to tourist attraction) offer a free water dispenser, though often the only water available is hot.
Food
I am far from a foody and food isn't something I usually give high priority to in my travels. Still, I have to say that I was disappointed with the food I ate during my trip. It's not that the food was bad, just that it wasn't especially good. It was also often quite oily and when meat was included it tended to be in very small amounts. Prices were generally higher than neighboring Asian countries as well. Finally, I read that Hunan food is spicy but I didn't find that to be generally true.
I don't know what signature dishes exist in the region. I had heard about beef noodles and I ate those several times but they didn't seem very special or distinctive to me. Stinky tofu is probably the one recognizable specialty of the area and I tried it several times. I liked it, though the taste seemed to vary a lot by vendor and it is very oily (the tofu seems to soak up the oil). Is it stinky? Yes! Strangely, however, it doesn't usually smell close to the vendor but when you walk away a few meters you get hit with the powerful stink.
One thing that surprised me is that restaurants don't seem to provide tea (for free or for purchase). It's undoubtedly my own preconception based on experiences with Chinese restaurants in the West but I have always associated China and tea and thought perhaps it would be served or at least offered in restaurants. Some do provide free hot water, but you will have to ask for it as nobody ever offered it unsolicited. I think perhaps local customers use this with tea they bring themselves or perhaps they just drink hot water? Maybe I just missed something important due to the language barrier.
One interesting thing I experienced is that many restaurants provide a two-cup set wrapped in plastic (one for tea, one for soup or noodles I presume). These are not free but rather typically cost ¥2 each. I am not entirely sure if you get charged whether your use them or not.
Finally, I read online that certain restaurants offer dishes made with meat from endangered animals. I wasn't eating at those kinds of places so cannot really comment.
Safety
I always felt safe. I have no statistics or knowledge about how safe I really was, but I never worried about petty crime or my personal safety.
Toilets
Be aware that nearly all public toilets are the Asian squat variety. I saw one Western stall available in a restroom on Tianmen Mountain, but that was it. Things may be different in larger, more touristy destinations, but that was my experience in Hunan.
Note that public toilets smell. Really. Bad. It might be worth packing a couple of face masks.
Also note that even some well-reviewed hotels use squat toilets in the rooms so if that is something important to you, pay attention to it when looking for and booking rooms online.
Miscellaneous
I read counterfeit cash is a problem. I don't know how prevalent the problem is but I saw that most shops have a machine to check your bills.
Do Chinese not use dental floss? I forgot to bring mine and I couldn't find it for sale anywhere.
Changsha
I don't really think Changsha offers much in the way of tourist attractions. There are some things to see and do, but none of them really excited me. If you have plenty of time, you may want to spend some time exploring the city, but otherwise I would opt to spend more time in the other destinations. I did visit
Orange Island
and the
Huangxing Road Walking Street
though.
For lodging, I stayed near the main train station at 7Days Inn Changsha Railway Station Metro Station (7Days Inn is a large chain of business hotels and there is another location just a couple of blocks away). There are many other options around there and in other parts of the city, and they might be nicer, but my room was fine and it was convenient to be near the airport bus and the subway.
Wulingyuan Scenic Area (Zhangjiajie National Forest Park)
From Changsha I took a direct bus to
Wulingyuan Scenic Area
. This area was named a UNESCO World Heritage Site in 1992 and is comprised of several national parks, the most famous of which is Zhangjiajie National Forest Park, a 243 square mile park full of stunning karst pillars of sandstone, covered with sub-tropical rainforest. It is said that this park was part of the
inspiration for the scenery in the movie Avatar
, and the 1,080 meter Southern Sky Column has even been officially renamed "Avatar Hallelujah Mountain." It is a very impressive place to visit, though be warned that the park is often covered in fog. Sometime this adds to the mystery and makes for stunning photos but sometimes it just obscures the view.
Entrance to the park is ¥248 but the ticket is good for 4 days. When you buy a ticket you'll receive a chip card and you also need your thumb print to go with it, so you can't sell the ticket on to someone else. If you think that's a bit expensive for a park entrance, be warned that you will end up spending more as it is difficult to see the worthwhile spots without using one of the cable cars or the elevator, each of which costs around ¥70 one-way. For that reason, it is probably a good idea to plan your itineraries to minimize these added expenses.
The park itself is very big and there is a lot worth seeing. There are two main ticketing gates, one at Zhangjiajie (West side, also referred to as sēnlín gōngyuán) and one at Wulingyuan (East side). From each of those gates there are buses that take you up to the actual park entrance for free. There are also minibuses that run between the entrances for ¥10 (30 minute ride).
The most convenient entrance will be Wulingyuan since there are many hotels there. I stayed at Zhangjiajie 1982 Chujian International Youth Hostel, which was quite nice and actually had staff with some English skills. Mike and Anne at HoneyTrek spent one night at one of the two hostels located inside the park, which seems like a convenient, if very basic, option that allows for off-hours exploring without all the crowds.
The size and multiple entrances make planning itineraries difficult. This is further complicated by the fact that it is not easy to find a good map online. My hotel provided a nice map for free but the photo I took of it (below) is of poor quality.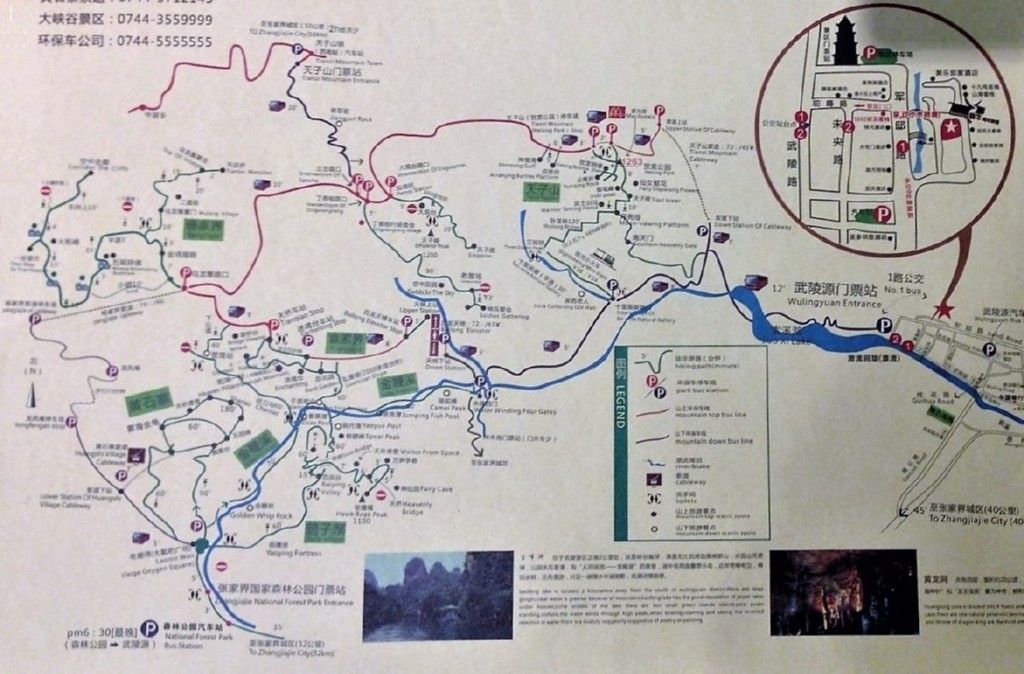 I did find two good digital copies of hand drawn maps. One is available at pizzatravel.com.au, which also offers a good guide for visiting the park. The other can be found at Laconic Voyage. The Laconic Voyage post also offers two more useful maps, one with highlighted tourist routes and one that shows the main routes and highlights in a less cluttered format. I also found a the sketch map of scenic spots in Zhangjiajie which isn't too bad but not as good as the others.
Take a Tour?

I didn't look into any tour options so I don't know how easy it is to find an operator with English speaking guides. I did randomly meet a local man named Kurt Zhang on the bus between park entrances who spoke very good English. He was visiting the park with some friends (including a couple of foreign exchange students). I asked if he was a tour guide and he said he wasn't and that he works in a nearby factory, though he knows the park quite well. I asked if he ever considered becoming a guide said he hadn't but he kind of liked the idea. So, if you are interested in reaching out to him as a possible private guide to hire, his email is
[email protected]
.
However you plan to visit the park, the first natural question is how many days are needed? I am sure many of the busloads of Chinese tourists do a one day visit that just sees the main upper level spots but there really is a lot more to see. I only spent two days myself but I could have easily enjoyed using all four days allowed by the entrance ticket. The big factors in how much time is ideal are:
Weather. It is often rainy or cloudy which can make for obscured views. If you plan enough time you can skip a bad weather day or do a half-day if the forecast is for clear skies only in the morning or the afternoon.
How much hiking you want to do and how fit you are. You can visit some of the most popular spots without needing to exert yourself with too much hiking. There are also trails, like the Golden Whip stream trail, which are a bit long but not strenuous. There are also trails between upper and lower spots that aren't technically difficult but do consist of a LOT of stairs which can be somewhat steep. If you are not hiking fit, your legs may be very sore for several days after hiking these.
The pace you want to set. You can cram a lot into each day but do you want to? If you like being active and maximizing your time, feel free. If you are a more relaxed, take-it-easy kind of nature explorer, you might want to do a series of half days instead.
As for crafting one or more itineraries, the most important thing to consider is that there are five main areas of the park (Yuanjiajie, Tianzi Mountain, Yangjiajie, Huangshi Village, and Golden Whip Stream) occupying an upper and a lower level. Though there are free buses that run along parts of each level, there is no bus that connects the two. So, if you want to move between lower and upper sites you will need to use one of the three cable cars or the Bailong elevator (each about ¥70 per ride). There are a few places where you can hike up or down between levels. The path from the Golden Whip trail is not too difficult or long but the path up to or down from the Tianzi Mountain cable car is longer, steeper and has thousands (3,878) of stairs to challenge your leg muscles.
The way I look at the maps (especially the tourist route map) and based on Wikitravel and advice from my hostel, I think the following itineraries are worth considering. For itineraries that rely on the shuttle buses, you should budget for waiting lines of about 15 minutes. The same (or worse) may be true for cable cars and the elevator.
Upper Level Route
This route covers a lot of viewpoints and hikes and can be arranged in multiple ways. You can do most of the highlights in a day if you are diligent and have the energy, but it would more easily be split into two or even three days if you include something like the 10 Mile Natural Gallery and a hike either up or down between Tianzi Mountain.
If you are staying near the Wulingyuan entrance, I would use both the Tianzi Mountain cable car (¥67) and the Bailong elevator (¥72) to get two different experiences. Take one up and one down, it doesn't really matter which. Once you are on the top, use the shuttle buses to visit the many viewpoints, plotting the order that makes most sense based on where you are starting and ending. If you are planning to hike up or down (down would be my vote) then you will want to make sure you give yourself enough time to finish before dark and before the last bus runs (typically 19:00 but maybe earlier in the off-season so confirm before if there is any doubt).
The most famous and crowded sites are in the Yuanjiajie section of the park, most closely accessed from the Bailong elevator. This is where you will find Avatar Hallelujah Mountain and a collection of other good viewpoints in the same area so plan for 2-3 hours (or more if you are taking it easy) to see it all (including the delays due to the number of other tourists).
There are also nice views close to the upper Tianzi Mountain cable car station near where you will get have to change shuttle bus. Interestingly, there is also a McDonald's there.
The entire East-West shuttle bus route probably takes at least 30 minutes plus the wait involved to board that I already mentioned. I took one of the shuttles to the upper Yangjiajie cable car station to hike to Tianbo Mansion, which was nice (and less crowded). That took longer than I expected though (a couple of hours) and note that not all the shuttle buses stop there so make sure you get on the correct one if that is your destination.
Golden Whip Stream (Jinbian Brook) Trail
This famous stream begins near the Zhangjiajie village park entrance and continues for several kilometers through the park. There is a walking path along the length of the stream, from which you can look up at the karsts all around you. There are a couple of trails that split off from the main trail so you can consider this one really long itinerary or multiple separate itineraries.
At around the halfway point (200 meters before Zicao Pool) you will come to a restaurant/souvenir shop. At this point there is a bridge across the stream, which leads to a different trail (about 4.5 km) through the Shadao Gully (Shandougou). The second half of the Shadao Gully trail is a steep flight of steps, but it leads to one of the most beautiful areas of the park.
If you return to the Golden Whip Stream or skip the Shadao Gully, then about 200 meters after Zicao Pool you will come to the Meeting of Thousands of Ways. Here you can turn to another trail which eventually leads you to the following attraction points with great views: Back Garden, Enchanting Terrace, and First Bridge of the World.
If you again return to the Golden Whip Stream or skip the trail after Zicao Pool, you can keep hiking another 2 km until you reach a bus station with souvenir shops and food outlets. From here you can take a bus to the lower stations of Bailong elevator (¥72 adult one-way), the sightseeing mini-train, the Tianzi Mountain cable car (¥67 adult one-way) and also to the Wulingyuan park entrance.
Huangshi (a.k.a Golden Rock or Yellow Stone) Village
This route was recommended by the staff at my hotel but I didn't have time to do it. You can use the Huangshi cable car (¥65 adult one-way, ¥118 round-trip) to get up and down or apparently you can hike from one of the offshoot trails from the Golden Whip Stream trail. At the top there are two loops available, a shorter one (about 60-90 minutes) and a longer one (about 3 hours).
10 Mile Natural Gallery
Contrary to the name, this is a 5.8km long walk up a valley with gentle gradient and good views. There is also monorail mini train (¥62 one-way) that follows the path. If you turn right past the end of the train there is a trail that leads up to Tianzi Mountain. Apparently, the mini train is shorter (~2km) than what the signs claim.
Points of Interest
Those are sort of big-idea routes or itineraries. I leave it up to you to decide which individual landmarks or scenic views are worth investigating, but as a place to start, Wikitravel lists the following:
Kongzhong Tianyuan. This garden sits on an outcropping surrounded by slender peaks.
Xianren Qiao (Bridge of the Immortals). This spectacular, narrow rock bridge is over a deep chasm, with no railings. Access to the bridge is blocked by barbed wire, but some daredevils choose to walk over it anyway. There are several amazing look-out points you can walk to nearby, including Great Viewing Platform, Emperor's Throne, and Cock-Pecking.
First Bridge of the World (天下第一桥 – Tian Xia Di Yi Qiao). This is a natural rock bridge similar to Xianren Qiao, but with guard rails that make it much safer to walk across. The bridge itself is really just a minor part of the incredible panoramic views to be seen along this short and easy trail. The area surrounding this bridge is known informally as the Avatar Mountains, and possibly the most touristed part of the park.
Heavenly Pillar (near First Bridge of the World). Sold as Hallelujah Mountain from the Avatar movie. Part of the Avatar Mountains
Tianzi Mountain. The highest area in the park at 3,450 feet can be reached by taking a cable car or one can climb up a 3,878 step stairway.
Yupi Feng (Tianzi mountain summit). These thin, spiky columns hundreds of feet high are featured on stamps and resemble calligraphy letters
Yaozizai (Yaozi Village). Unlike the other attraction points with nice scenery this area is much less crowded. You may hardly encounter a few people here for hours of hiking. This area can be reached from either ends of the Golden Whip Stream path. There is also a turn to the Yaozizai area near Zicao Pool at the Golden Whip Stream path.
Sadao Gully (one end is on Golden Whip Stream path and there is also a track that connects to the YHA). A narrower more intimate version of Golden Whip Stream that sees almost no tourists. A great place to find some quiet walking.
Final Thoughts
During my two days in the park I don't think I saw more than a dozen other non-Asian tourists. But, that is not to imply that the park is peaceful. This place is very popular with Chinese tourists. I made the mistake of going on a weekend, which was pretty awful for crowds, though it was probably better than it might have been since the weather was not very good and I went in October rather than the busy summer season.
One way to beat the crowds is to do the routes that they avoid. I wouldn't skip the famous Avatar Mountains locations but most of the lower valley hikes had much smaller crowds and sometimes nobody else within eyesight.
I read that there aren't many food options so you should bring your own. That was not true. The prices are undoubtedly higher than you would pay in town, but they weren't too terrible.
Zhangjiajie City and Tianmen Mountain (Tianmenshan)
Zhangjiajie city is the other main city besides Changsha in Hunan province. As far as I am aware, the only tourist activity in the city is
Tianmen Mountain
, which is a good one-day outing. The park entrance is right in the heart of the city near the train station (about a 10-15 minute walk), and there are some hotels and guest houses nearby. I stayed at
Dingding Inn
, which was a nice place but very difficult to find. It is only a few minutes on foot from the Tianmen Mountain cable car station but it is located in what appears to be one of a set of private apartment or condominium high rises.
There are two ways up and down the mountain, via the cable car (said to be the world's longest) and by bus on the famous 99 bends road. There are 3 "line" options you can purchase:
Line A: cable car up and bus down + park entrance
Line B: bus up and cable car down + park entrance
Line C: either cable car both up and down or bus both up and down + park entrance
If you read online it would appear the entire world chooses Line A but both are fine options so you might choose B and avoid some of the queue issues. Also, very few people will mention that Line C exists and it wasn't available when I asked at the ticket office, so perhaps it is something you must buy in advance or perhaps it is only sold to tour groups.
One thing to note is that the tickets are sold in time slots to help ease congestion and waiting. Since Line A is the most popular, if you wait too long to buy it, you might not be able to leave until late in the morning or even after noon. For that reason, you should try to buy your ticket as early as possible, though as I said, Tianmen Mountain is really the only tourist game in town so it is unlikely you will be in the city more than a day in advance. Line B is an equally fine option and less popular, so if Line A starts too late the day you plan to visit, just opt for Line B instead.
The price for either Line A or Line B is ¥261 but the owner of my hotel said she could order a group ticket in my name for a discount and I just had to pick it up at the group ticket counter. I did that and only paid ¥235. Ask your hotel if they can do the same for you.
In addition to the Line ticket, you will also need to pay ¥32 if you want to skip the 999 stairs (the "Stairway to Heaven") at Heaven's Door and take an escalator instead. There is also a chair lift from the upper cable car station to the peak for ¥25. Finally, each of the three different glass walkways charges ¥5 to "rent" shoe covers to protect the glass.
Planning your day at Tianmen Mountain is considerably easier than Zhangjiajie Park. There are basically three major attractions. You experience the 99 bends from the bus and view them from above in the cable car if the weather is good. Heaven's Door, which is technically a cave, is sort of halfway up the mountain (the bus travels between it and the cable car station in town). The top of the mountain offers two long paths (West and East) that hug the edge of the mountain. Along one of those loops you will find on glass walkway and along the other you will find two more. To get between Heaven's Door and the top of the mountain there is a very long escalator which is included in the price of your ticket.
The main question to answer is whether you want to start at Heaven's Door or on top of the mountain. That will probably depend on what Line ticket options are available when you make your purchase.
Fenghuang
The ancient town of
Fenghuang
was added to the UNESCO World Heritage Tentative List on March 28, 2008 in the Cultural category. The town was built in 1704, and has 300 years of history.
Fenghuang is named for the mythological birds of East Asia that reign over all other birds. The males were originally called feng and the females huang but such a distinction of gender is often no longer made and they are blurred into a single feminine entity so that the bird can be paired with the Chinese dragon, which is traditionally deemed male. There is a large statue of a fenghuang in the old walled city.
The main attraction of the city is its old charm and beauty, especially at night when everything along the river, including the various bridges, is lit up in multiple colors. It seems like a place that would be used to shoot traditional films and it is small enough that you can easily walk it all in one day and evening.
There are about half a dozen tourist attractions that you must pay to enter but you can enjoy wandering around the city and enjoying the beauty and atmosphere without paying anything (apparently that wasn't the case in the past).
My Budget Breakdown
Since I spend so much time in Thailand these days, China seems a bit expensive in comparison. But, really, the biggest bite out of your budget will be the tourism fees, airfare and the tourist visa. I paid about US$140 for a 10-year tourist visa and I got an insanely cheap price on airfare (about US$50 round-trip).
In total, I spent $612 for my 11 day trip ($55.61 per day) with 39% going to tourism activities. Below are charts breaking down my total and average daily spending.
There Is
1
Comment
Click to See or Add Your Own »